Originally designed as a space saver, the NEPTIS® LC is our smallest [18F]fluoride-based synthesizer, where up to three modules can be set up in one mini-cell. As time has progressed, the synthesizer has found a new purpose in the radioactive world, and today is used to produce other radiotracer and therapeutic agents.
Download the brochure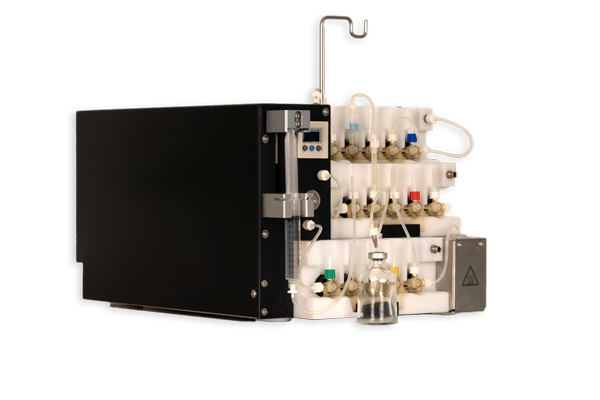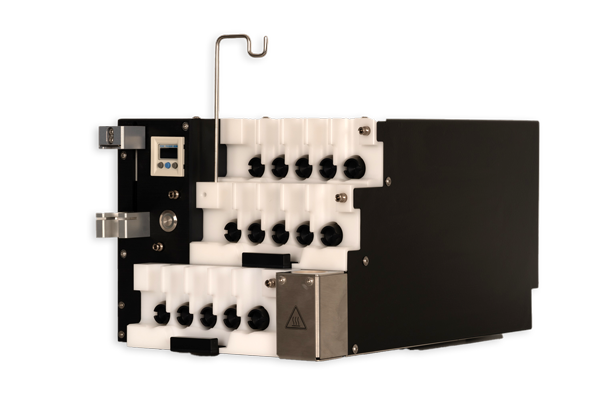 Radioisotopes
Apart from performing well for typical [18F]fluoride syntheses, with more than 70% uncorrected yield for [18F]FDG, and all other generic tracers like [18F]FLT, [18F]FMISO, [18F]F-Choline, [18F]F-Acetate etc., the NEPTIS® LC has become the tool of choice for the synthesis of new labelled compounds – small molecules, nanobody and nanoparticles with the following isotopes: 68Ga, 188Re, 177Lu, 89Zr, 90Y, 131I, 225Ac, 99Tc.
Current Virtual Synthesizer® Applications
See the list applicable to this module
[18F]FDG
[18F]FDGal
[68Ga]Ga-DOTA-NOC
[68Ga]Ga-DOTA-TATE
[68Ga]Ga-DOTA-TOC
[68Ga]Ga-PSMA-HBED
[99mTc]
[188Re]Re-compounds
[131I]I-compounds
[177Lu]Lu-compounds
[89Zr]
[90Y]
[225Ac]
The following tracers do not have commercial kits available but can still be produced with the NEPTIS® LC:
[18F]F-Acetate
[18F]F-Choline
[18F]FES
[18F]FET
[18F]FLT
[18F]FMISO
[18F]NaF
3 ramps of 5 pneumatic 3-positions actuators
W x H x D:
280 x 240 x 400 mm
11 x 9,4 x 15,7 in
Weight : 20 Kg / 44 Lbs
The compact platform design can provide increased PET tracer production capacity for an existing facility, whilst removing the need for expensive investment in new hot cells. In addition, the compact vertical configuration of the manifolds and use of the 3 position actuators , allows the use of only one syringe driver for process control.
If the solid supported purification of the final product cannot be achieved, a supplementary module (NEPTIS® SP) can be connected directly to the back of the NEPTIS® LC. This allows injection onto HPLC, the collection of the purified fraction, and SPE reformulation. The NEPTIS® SP is also available as a stand-alone version. As with the other NEPTIS® synthesizers in the range, it is also possible to connect a second reactor oven to the LC module. NEPTIS® SP can be stacked on the top or on the bottom of the synthesizer associated to it.
The purification of some macromolecules may request the use of specific cartridges, for this purpose specific sensors can be installed on the cassette. This then "gives" the possibility to have a fully automated purification process that can control all the liquid levels, cartridge dryness and collection of the final product.