The NEPTIS® Perform is an innovative multi-purpose synthesizer for the automated production of an extensive variety of [18F]fluoride-based radiotracers via nucleophilic synthesis, that require additional HPLC purification.
Download the brochure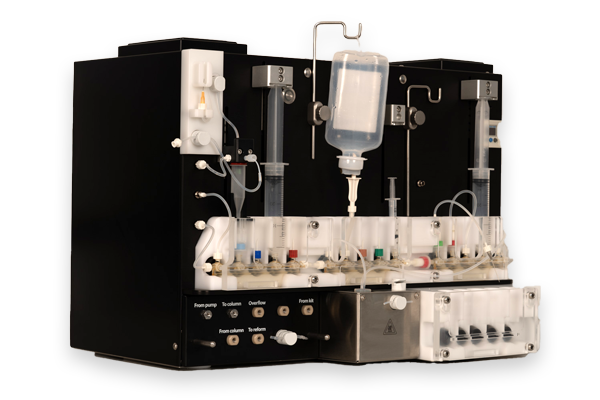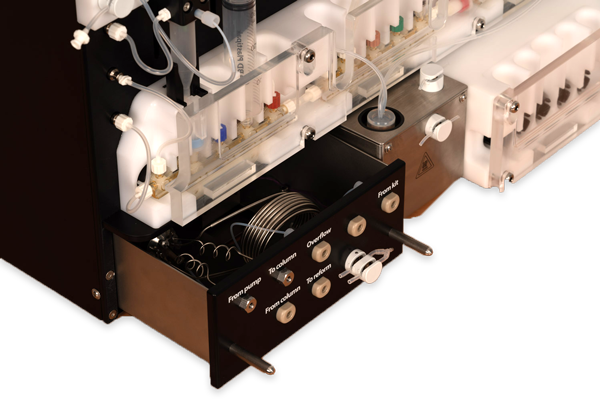 HPLC
The Perform includes a dedicated integrated HPLC drawer with connections to the externally located HPLC pump and UV detector.  The HPLC drawer contains the injection valve, injection loop, radioactivity detector and fittings for tubing connections. All the HPLC components are controlled by the NEPTIS® Control System within the defined sequence such as injection valve and HPLC pump. The injection loop is loaded via the syringe driver which is also controlled by the sequence software.
The HPLC pump (start/stop/flow) and UV parameter (wavelength) detector signals are also displayed by the NEPTIS® Control System during the synthesis.
In addition, a built-in Solid Phase Extraction reformulation module is fully embedded into the NEPTIS® Perform model and its control system.
Current Virtual Synthesizer® Applications
See the list applicable to this module
[18F]NaF
[18F]FLT
[18F]FMISO
[18F]F-Acetate
[18F]F-Choline
[18F]FET
[18F]FES
[18F]SFB
[18F]FDGal
[18F]MPPF
[18F]Fallypride
6-[18F]F-L-DOPA
[18F]FHBG
[18F]PSMA 1007
[68Ga]Ga-DOTA-NOC
[68Ga]Ga-DOTA-TOC
[68Ga]Ga-DOTA-TATE
[68Ga]Ga-PSMA HBED
[177Lu]Lu compounds
4 ramps of 5 pneumatic 3-positions actuators
W x H x D:
560 x 420 x 400 mm
22.0 x 16.5 x 15.7 in
Weight : 38 Kg / 84 Lbs
Supplementary Accessories
Several additional accessories are also available to further enhance the capabilities of the Perform module as required:
HPLC column selector: This allows the use of two different HPLC columns.
HPLC pump: The NEPTIS® control software is modified to allow control of the classical isocratic HPLC pump (Knauer Azura 4.1) as well as the quaternary pump (Knauer 6.1L) giving you more flexibility for HPLC purifications.
Second reactor oven: This can be added for the module.
Two cooling systems for the reactor oven are also available:

Reactor oven with compressed air cooling (T° range: RT to 220°C)
Reactor oven with Peltier system for the cooling (T° range: 0 to 150°C)

Radioactive detectors: Option for 6th detector.
Dual run for FDG: Using single operational set-up kits.